As you may already know, one of my favorite things to do is karaoke. I even do it for a living, which makes it twice as cool for me. Not everyone gets paid to do what they like. In fact, my friend Kelly and I have started our own Karaoke/DJ company called Music Unlimited. You'll find the link to our web site below. I've also included a list of my favorite karaoke spots in the St. Louis area. All the DJs are friends of mine, so check them out.
Music Unlimited
Very soon you'll be able to find a listing of our regular shows here. In the meantime you can contact me at 314-614-6846 or Kelly at 314-965-5748 to book us for your event/party/whatever. Click on the logo for more info on Music Unlimited.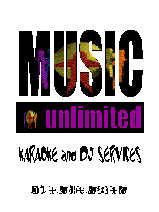 For a combination of karaoke and line dancing, stop by to see Mary. Oh, don't worry if you can't line dance, she gives lessons, too!
Bailey Brothers Bar & Grill 5425 South Grand, St. Louis, (314) 872-3360. Every Wednesday and Saturday, 9:00 pm until 1:00 am.. Bailey Brothers also offers drink specials during Karaoke and serves some terrific food! Go early for dinner and stay for some upbeat karaoke and dancing!
Mary is also available for private parties...just call (314) 645-7592.
Karaoke with Christina and Rose
Attitudes 4100 Manchester, St. Louis, (314) 534-3858. Every Wednesday 8:00 pm until they get tired of having fun. Is that even possible? Check out this club for some great Wednesday night entertainment! You can call in sick on Thursday, right?
Karaoke with Rose
Attitudes 4100 Manchester, St. Louis, (314) 534-3858. Every Friday 7:30 pm until 11:30 pm. Why not start your weekend fun early? Great singers, dancing, and a great time!
To book Rose for your party, call (314)-731-0216.
Novaks Bar & Grill
4146 Manchester, St. Louis, (314) 531-3699. Novak's has karaoke three times a week! Great food, dancing and singing bartenders, and drink specials...what more could you want!
Every Friday 9:00 pm until 1:00 am and every Sunday from 7:00 - 11:00 pm you can sing with Bob's Krazy Karaoke. Click on Bob's picture to see other places Bob can be found or call him at 314-404-SING.
Every Wednesday from 8:00 pm until 1:00 am you will find Becky and Laura from Footloose and Fancy Free Karaoke & DJ Service providing the entertainment at Novak's. You can book them for your own parties, too...call them at 1-800-706-DKDJ.